---
UTV & Trailer Winner is Roger D. Anderson from Star Prairie. Congrats Roger!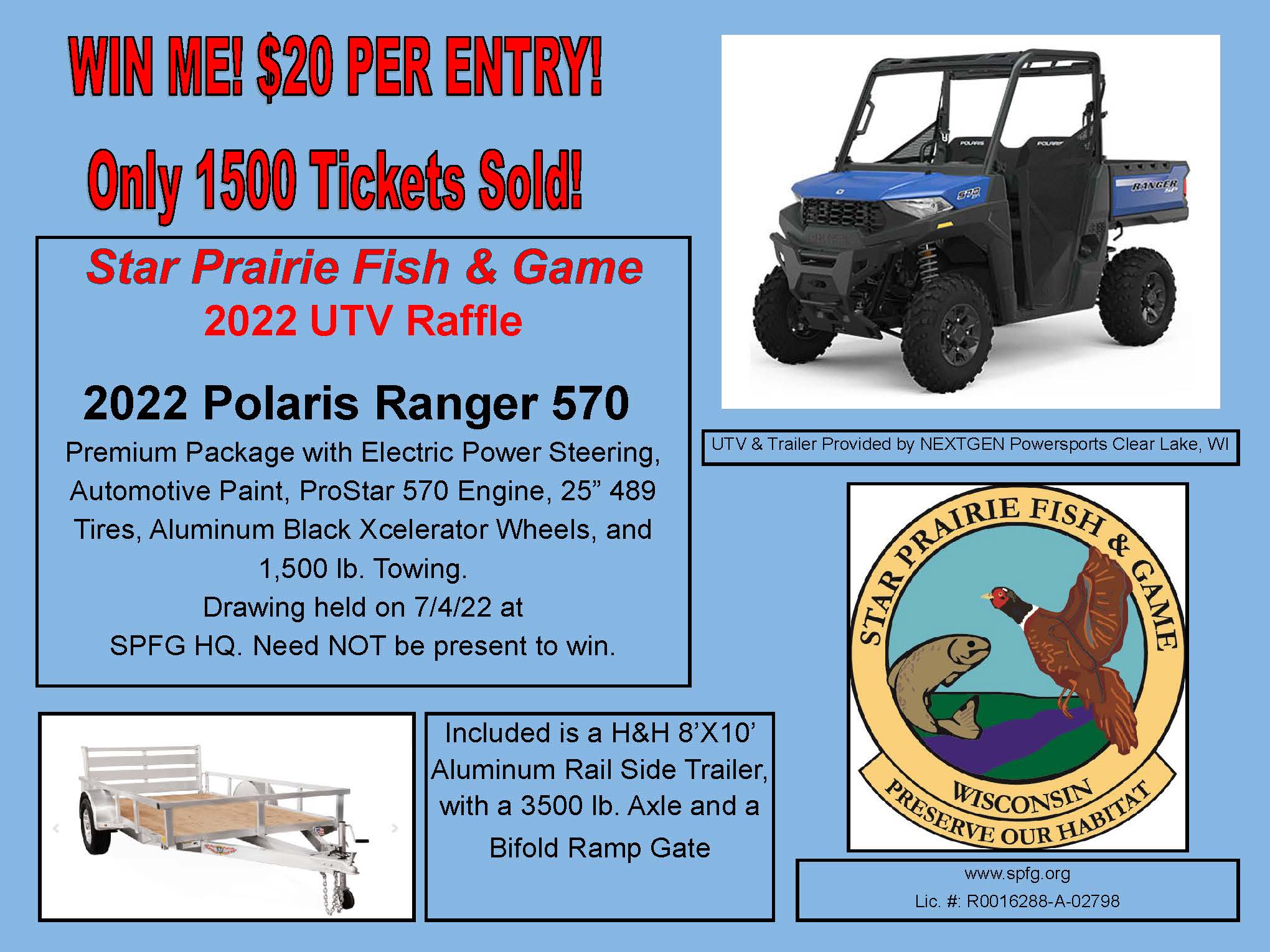 Special thank you to these establishments for selling chances at the Polaris UTV & Trailer. Drawing will be streamed live on the SPF&G Facebook Page on July 4th.
Gibby's Lanes – New Richmond
Star Prairie Barber Shop – Star Prairie
Papa's Bar & Grill – Forest
Suzy Q's Bar & Grill – Cushing
Sundown Bar – Lewis
Russell's Sport & Bike – Star Prairie
Eagle Lounge – Fox Creek
The Shop Bar & Grill – Webb Lake
Willow River Saloon – Burkhardt
Deer's Bar – Deer Park
Next Stop Bar – Houlton
7 Brother's Bar & Grill – Clayton
Kassel Tap – St. Croix Falls
U.W. Wanderoos – Wanderoos
Wolf Creek Bar – St. Croix Falls
Shuggy's Bar & Grill – Hammond
Sue's Hometown Bar – East Farmington
JJ's Outpost – New Richmond
Midway Bar – Clear Lake
T Buckets Bar – Somerset
Cedar Creek Inn – New Richmond
The Friendly Bar & Grill – Star Prairie
Thanks for attending Buck's Night 2019!
We hope you had fun.

Please email Feedback to: info@spfg.org
Who is Star Prairie Fish and Game…
Star Prairie Fish and Game is a group of residents that have chosen to dedicate our free time to make our community a better place to live. We generate outdoor recreational opportunities for those that might not have the chance as well as provide the funding and labor to ensure quality wildlife habitat in meaningful projects.