March 26th, 2021 NEWS RELEASE
Pheasants Forever & Star Prairie Fish and Game
"Habitat Handout Day" for St. Croix and Polk counties scheduled for Saturday April 24th, 2021. 12:00pm @ Riverwood Nature Center, Star Prairie WI 54026, 217 W 1st Street.
<Click Here for more information!
---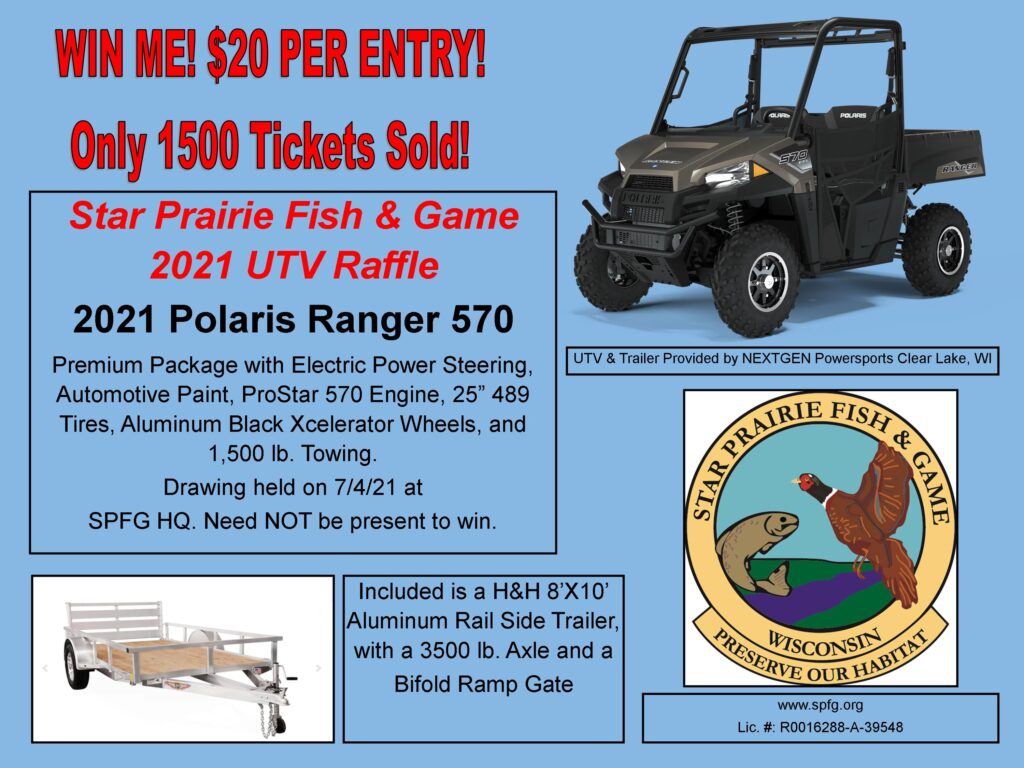 Special thank you to these establishments for selling chances at the Polaris UTV & Trailer. Drawing will be streamed live on the SPF&G Facebook Page on July 4th.
Gibby's Lanes – New Richmond
Star Prairie Barber Shop – Star Prairie
Papa's Bar & Grill – Forest
Suzy Q's Bar & Grill – Cushing
Sundown Bar – Lewis
Russell's Sport & Bike – Star Prairie
Eagle Lounge – Fox Creek
The Shop Bar & Grill – Webb Lake
Willow River Saloon – Burkhardt
Deer's Bar – Deer Park
Next Stop Bar – Houlton
7 Brother's Bar & Grill – Clayton
Kassel Tap – St. Croix Falls
U.W. Wanderoos – Wanderoos
Wolf Creek Bar – St. Croix Falls
Shuggy's Bar & Grill – Hammond
Sue's Hometown Bar – East Farmington
JJ's Outpost – New Richmond
Midway Bar – Clear Lake
T Buckets Bar – Somerset
Cedar Creek Inn – New Richmond
The Friendly Bar & Grill – Star Prairie
20 Gun Winners From our November 16th drawing. Congratulations to our Winners. We will be contacting each of you individually. Guns can be registered and picked up at Russell's Sport & Bike in Star Prairie, WI.
Tikka T3 Lite 6.5 Creedmor Karl Liljenberg
Marlin Model 336 Lever Action .30-30 Cal. Jessica Eccles
Ruger American Predator .308 Win. Al Lindley
Springfield Pistol XDS 9mm Neil Frederick
Browning A-Bolt III .300 Win. Mag. Sara Kost
Legacy Pointer Shotgun 12 Ga. Julie Winans
Savage Axis XP w/Scope 6.5 Creedmor Maria Stamos
Taurus Pistol PT92 Stainless 9mm Jesse Kohler
Savage 9317 HMR w/Scope .17 Cal. Dan Cain
CZ Pump Shotgun 28 Ga. Kevin Reed
Legacy Pointer Shotgun 20 Ga. Mike Alexson
S&W Pistol Shield .45 ACP Max Schostek
Savage Axis XP w/Scope .270 Cal. Joey Lemke
Howa Game King w/Scope .243 Win. Randy Crandell
CZ Autoloader Shotgun 12 Ga. John Logan
Taurus Pistol Model 627 .357 Cal. Larry Kuhl
Winchester SXP 12 Ga. Jim Landry
Savage Axis II Flag Checkering w/Scope .30-06 Cal. James Cox
Remington Model 870 Express 12 Ga. Don Potting
Ruger 10/22 .22 Cal. David Ostermann
Who is Star Prairie Fish and Game…
Star Prairie Fish and Game is a group of residents that have chosen to dedicate our free time to make our community a better place to live. We generate outdoor recreational opportunities for those that might not have the chance as well as provide the funding and labor to ensure quality wildlife habitat in meaningful projects.